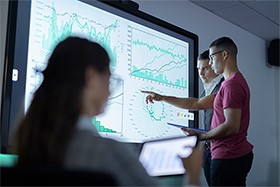 The Institution of Engineering and Technology (IET) has announced the full release of Inspec Analytics, a powerful new research intelligence tool based on the renowned Inspec database.
Since 1969, Inspec has been delivering access to engineering intelligence and has become the authoritative resource for accessing scientific literature, serving tens of thousands of users around the world. As the role of scholarly communications is evolving, the IET has developed Inspec Analytics; in response to the increasing need to assess the value and impact of research, and guide business strategy.
Inspec Analytics enables research professionals to explore beyond the literature in Inspec to uncover trends and patterns across thousands of organisations and scientific disciplines at both local and global levels. With these insights, researchers, strategic managers and libraries can set direction for their outputs and monitor their impact.
Inspec Analytics is included with the Inspec subscription. Current subscribers may have access to Inspec via one of our vendor platforms including EBSCOHost, Elsevier's Engineering Village, OvidSP, ProQuest Dialog and Web of Science.
* Sorry, this agreement has expired *

IET Inspec
This agreement expired on the 31/08/2021
Abstract and indexing references related to scientific and technical literature in the areas of physics, electrical and electronics engineering, computing and control engineering (now available ...

IET Inspec Archive
Available to purchase in perpetuity
Science Abstracts journals from 1898-1968 (now available at https://subscriptionsmanager.jisc.ac.uk/)