ENVI - Free self-paced tutorials
Self-paced online tutorial: Learn how to add easy-to-use SAR processing to your remote sensing applications
The use of Synthetic Aperture Radar (SAR) data has become increasingly popular in recent years due to its many advantages such as its ability to capture data day or night and see through clouds. However, SAR data can be extremely complex and difficult to work with. ENVI® SARscape® has made the benefits of SAR data available to professionals across industries for many years. And now it's gotten even easier!
ENVI now includes easy-to-use tools for some of the most common SAR processing applications – extending the benefits of SAR data to more users. These tools, ENVI SARscape Analytics, can be accessed in the ENVI toolbox and ENVI Modeler as well as ArcGIS Pro, and do not require you to be an expert in SAR to run them!
In this ten part course you will learn how to use the most requested analytics to support your Earth Observation applications with meaningful SAR products:
Introduction
Sentinel Download
Image Geocoding
Time Series
Flood Mapping
Ship Detection
Change Detection
DEM Extraction
Displacement Mapping
Persistent Scatterers
Each part in the series can be watched independently, however we recommend that you begin with part one for an introduction to the toolbox used throughout the course.
What is a Self-Paced Training?
Self-paced training courses are video tutorials that cover some of the same information you would receive in our in-person courses, and come complete with data and step-by-step instructions. They let you learn on your own time and at your own pace.
This course is available to anyone with a basic level of remote sensing knowledge and you don`t need to be an ENVI user to benefit. During the sign up process, trainees will be able to apply for a temporary software licence to complete the course.
Find out more and register here.  
ENVI & ArcGIS
Click on the below image to learn more about how to get the most from ENVI Analytics across the ArcGIS Platform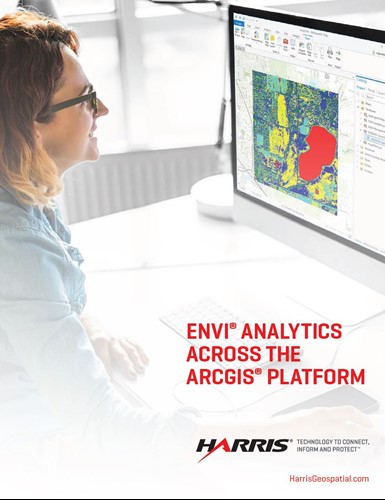 Product Updates
For the latest news on ENVI Product updates and maintenance, geospatial analysis and data visualization technology see Harris website
Classroom Training
Harris offer a wide range of training courses throughout the year.  Click here to find out details of what is coming up in the near future.
All universities are entitled to a discount on classroom courses - use the code HARRISEDU when purchasing. 
Please note, if the attendee wishes to sign up to the course by means of an institutional purchase order, they should contact Gareth Kirby (GKIRBY01@harris.com) advising which course they wish to attend.
Self-paced training
Harris also offer a wide range of free online training, so you can learn at your own pace, wherever and whenever you want.  Click here to learn more.
Case Studies
Download the flyers:
Landsat 8 data
Freely available Landsat 8 data via Amazon Web Services (AWS)
Please contact your ENVI Chest Agreement Licence Administrators to download the "LandSat-8 Query Extension tool" from the Harris website – once logged in click onto My Account> Extensions. This 3rd party plug-in allows an ENVI Chest Agreement Licence User unbridled access the Landsat 8 data to undertake analysis on the web, without the need to download the imagery data to their local machine, saving both time and expense.
Further details about the ENVI extension tool and AWS can be found on the Harris website.
Additional information can also be found on the Amazon Web Services (AWS) website:
AWS has made Landsat 8 data freely available on Amazon S3. All Landsat 8 scenes from 2015 are available along with a selection of cloud-free scenes from 2013 and 2014. New scenes are made available each day, often within hours of production. Learn more how to access over 400,000 Landsat 8 scenes on-demand without the need of storage here.
The Landsat program, launched on 11 February 2013, is the longest-running enterprise for acquisition of satellite imagery of Earth. Learn more about how Landsat data is used on NASA Landsat landing webpage.