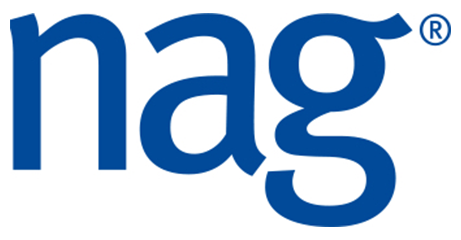 A new set of Derivative-free Optimization solvers has been integrated into the NAG Library at Mark 27. Developed in collaboration with Lindon Roberts and Coralia Cartis of University of Oxford InFoMM Center for Doctoral Training, the solvers are aimed at optimizing Black Box models and can handle either calibration (nonlinear least squares) problems or problems with a generic objective function. Available with both direct and reverse communication interfaces, the solvers should show an improved convergence rate compared to the existing DFO solutions in the NAG Library.
For more information on the new Derivative-free Optimization solvers see the mini-article and Technical Poster 'Derivative-free Optimization Solver for Calibration Problems'. There's also a wealth of information in the 'Minimizing or Maximizing a Function' NAG Library Chapter Introduction here.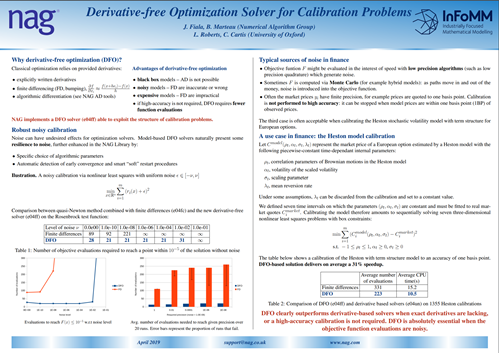 Free trials of the new NAG Library are available.

We recommend that users move to the latest NAG Library because of additional functionality and guaranteed support levels (all supported clients are guaranteed technical assistance on the current release and one previous). If you have any questions about this release do contact your Account Manager or the NAG Technical Support Service.
* Sorry, this agreement has expired *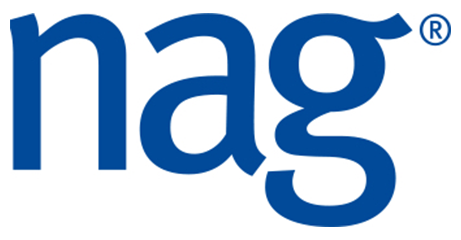 NAG 2015
This agreement expired on the 31/07/2020
Numerical Algorithms Group. NAG produces and distributes numerical, symbolic, statistical, visualisation and simulation software for the solution of problems in a wide range of applications in ...