Supplier Details
Owner: License Dashboard, (company no 6599902), Bytes House, York Road, Pocklington, York, YO42 1NS
Product Description
The SAM Agile service can be overlayed on any existing or new SAM platform or used in conjunction with our own product, License Dashboard License Manager.
License Dashboard deliver core SAM Services which includes continued hardware and software discovery, contract and proof of entitlement management, license reconciliation and risk and optimisation management to ensure all required SAM data is up-to-date and ready to support institution's stakeholders.
Utilising comprehensive SAM data, the service provides Agile Sprint Service delivery of value-added outcomes which focus on risk mitigation and cost optimisation activities, responding immediately to change and prioritised demand, whilst significantly minimising the cost of delivery and maximising the ROI.
This unique approach to managing Software Asset Management, really allows us to deliver a flexible service that easily adapts to changing requirements and ensures that value is optimized throughout the delivery process and, consequently, savings can be recognised and banked quickly.
As a result, higher and further institutions would subscribe to a service that delivers exactly what they need, when they needs it, instead of been held to a fixed inflexible service that delivers outcomes at the wrong time and don't meet the real-life demands made on the institution.
The SAM Agile Service is broken-down into two parts, these are as follows:
Core SAM Services: The core SAM service includes continued monthly hardware and software discovery, contract and proof of entitlement management, license reconciliation, risk and cost management, delivered and reported by SAM Specialists in conjunction with the License Dashboard Platform.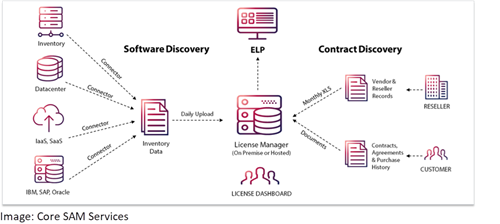 License Manager is a powerful yet easy-to-use platform which allows institutions to accurately manage software licenses. The tool provides advanced licensing automation, speeding up day-to-day tasks for software asset managers and ensuring that complicated license metrics are correctly calculated. License Manager ensures an institution is receiving the maximum ROI on their software purchases, often saving businesses up to 30% of their software spend.
License Manager integrates with your existing IT infrastructure, seamlessly working with systems such as SCCM, Lansweeper, LANDesk, vCenter and ILMT etc. This speeds up implementation and means your institution may have no need to deploy another expensive discovery tool. Institutions who use License Manager will see an ROI in weeks, not months.
License Manager is utilised by the dedicated License Dashboard SAM Consultants to process the data in order to drive the SAM Agile process.
At the end of each period, the SAM data, held within the above business solution, will be up to date and will be fully accessible to all stakeholders via License Dashboard Portal. On completion of the Core SAM Service, a Senior SAM Consultant will conduct a comprehensive risk assessment, identifying any concerns relating to exposure, over deployment, underutilization, spend overages and other related key metrics.
By using intuitive dashboards, charts and reports, License Dashboard Portal presents complex SAM data in an easy-to-understand BI format, suitable for the wider IT team, senior management, and the C-Suite. License Dashboard Portal is web-based and fully customisable, ensuring users only view the information relevant to their role. The application is also completely secure, administrators can lock down any area of License Dashboard Portal on a per user basis.
Dashboards include product categorisation, contracts and entitlement, software surplus, compliance and risk, all displaying the information needed to make informed decisions.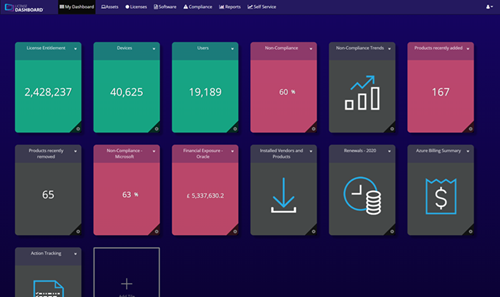 Agile Sprint Services (can be used in conjunction with an existing or new SAM tool):  The Agile Sprint Service is flexible and can be scheduled in accordance to key stakeholder demand. Every week, both the institution and License Dashboard SAM Consultants will attend a Sprint Planning Meeting to review the Demand Backlog to understand stakeholder requirements, service reviews, enhanced effective license positions, technical support, advisory services, SAM maturity assessments, risks and opportunities management, and identify what work should be included in the next Sprint (an iteration of work lasting no more than 4 weeks).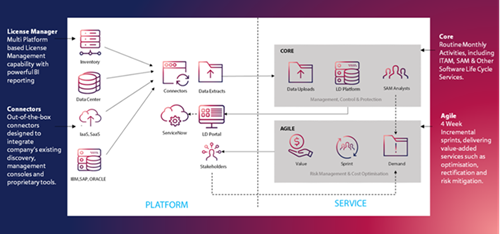 It is known, in advance, the cost in terms of points (pre-purchased at the commencement of the Service) for each requirement, so institutions are in complete control of how many points are consumed each Sprint. As each requirement has a measured outcome in terms of cost optimisation or risk mitigation, it is simple to calculate a return on investment for every point spent.
All institutions can determine their SAM spend month-by-month, and in working with License Dashboard, they can identify the work required sprint-by-sprint. The Demand Backlog, Sprints, Points, KPIs and value-added outcomes can all be monitored, administered, and reported by the SAM Agile Management Portal.
The SAM Agile Management Portal is an agile project management tool that supports the agile methodology. From agile boards to reports, institutions will be able to plan, track, and manage all Software Asset Management projects from a single tool.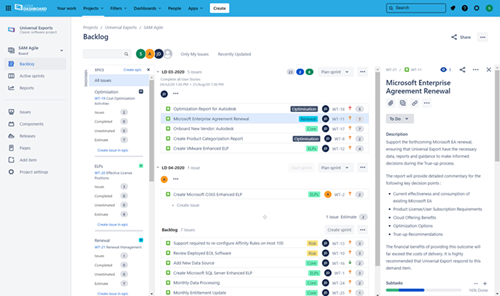 Subscribing to this service will expedite and guaranteed the desire to increase ITIL maturity levels from Reactive to Proactive (incorporating performance metrics related to service), including advanced trend, cost, process, problem, availability, automation, change, support management.
The SAM Agile Management Portal will manage, control and drive the following process:
Demand Backlog: All stakeholder requirements will be registered in a Demand Backlog which will be administrated and responded to via the SAM Agile Service. All submitted demand will be reviewed and acknowledged within 4 working hours and then, subsequently, scoped, estimated, refined, and prioritised ready for the Sprint Planning Meeting.


Sprint Planning Meetings:  A timeboxed working session that lasts roughly 1 to 2 hours per week, enabling both parties to determine what work should be delivered during the next Sprint and agree plans for completing the outcomes required. Once the work is agreed and scheduled, the stakeholder will be advised on when the work will be completed.


Sprint Backlog: A list of tasks identified to be completed during the Sprint, including information related resources, progress, velocity and estimated completion.


Sprint: A timeboxed iteration of a continuous delivery, no longer than 4 weeks. The SAM Agile Service will conduct daily stand-ups to ensure that all tasks and outcomes are delivered on-time and sprint and velocity reports will be accessible via the SAM Agile Management Portal so that progress, TCO and performance can be continued to be reviewed and reported.


Sprint Review: Both parties review the completed work and prepare for stakeholder handover/demonstration. All cost savings are reviewed, registered and reported.


Stakeholder Demo:  Delivery of the required outcome to the relevant stakeholder, presenting and outlining work completed, confirming that all requirements have been completed and the desired outcome has been achieved. Additional advice and guidance will be provided during this meeting, based on questions raised during the demo.


Retrospective Meeting: All parties review how the last Sprint went with regards to people, relationships, process, tools and identify what went well and what potential improvements to Service could be made.


Value Reporting – Monthly Value reports will be provided, detailing all outcomes, cost savings achieved, and risks mitigated.
The Agile Sprint Service promotes collaborative working and enables all resources to participate, support, shadow in the delivery of value-added outcomes. By introducing the above process, institution's support teams and other key stakeholders will have fully visibility of progress and, via the Daily Stand-ups, Review, Demos and Retrospective meetings, will continue to learn and further develop their Software Asset Management skills.