Product Information
Supplier Details
Licensor: FeedbackFruits BV, Danzigerkade 17, 1013 AP, Amsterdam
Product Description
FeedbackFruits Tool Suite offers solutions for three main categories: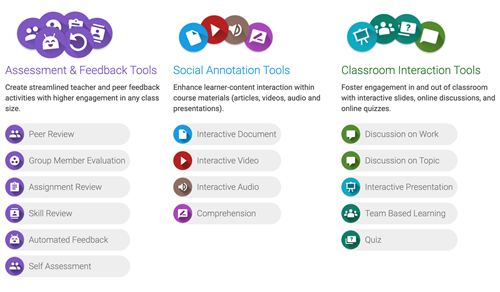 Assessment Tools: 6 tools to easily facilitate self, peer, teacher and AI-assisted assessment through feedback on deliverables, skills and group contribution with actionable analytics, and reusable rubrics and feedback comments.
Social Annotation Tools: 4 tools to encourage class preparedness and collaborative learning through social annotation and inline annotated discussion of documents, videos and audio.
Engagement Tools: 5 tools to stimulate an engaging learning community with online discussion, interactive presentation and team-based learning activities.
Key features:
Shared libraries: Collaborative spaces where teachers and learning designers can manage and organize their rubric and activity templates on a personal or institutional level.
Collaboration options: FeedbackFruits activities can be set up for students to work individually or as groups easily with automatic synchronization of VLE/LMS groups.
Feedback criteria options: When using FeedbackFruits assessment tools, the teacher can select the type of criteria they would like students to use when giving feedback. It is possible to use a combination of a rubric, scale rating criteria and ungraded comment criteria.
Configurable grading: In graded activities, the teacher can add a certain value to any part of a FeedbackFruits activity that would contribute to the total grading. The grade is automatically calculated according to the applied percentages and can be pushed to VLE/LMS gradebook with one click.
Reflection step: Optionally the teacher can add a reflection step to a FeedbackFruits activity for students to reflect on their performance and feedback they received.
Automated feedback coach: In FeedbackFruits Group Evaluation tool, students receive real-time feedback from this AI-powered coach to increase the quality of their feedback.
FeedbackFruits is currently working with 100+ institutions globally including University of Leeds, Falmouth University and University of Bath in the UK. Check out their use cases to learn more about how institutions transformed their teaching & learning with the FeedbackFruits tools.
FeedbackFruits is compliant with global data security, privacy and accessibility standards. FeedbackFruits is certified by 1Edtech for data privacy and LMS interoperability on LTI 1.3 standards. FeedbackFruits also received the Data Secure certification issued by Better Security Management (BSM) validating the security of FeedbackFruits platform and database. All data is secured according to the strict General Data Protection Regulations (GDPR) as set by the European Union.
FeedbackFruits Full Tool Suite (15 Tools); Hosting, Implementation & Integration; Pilot Consultative Services (use case identification, institution specific training and onboarding, institutional/departmental template creation, bi-monthly adoption consultancy sessions); Institution-Wide Unlimited Usage.
https://feedbackfruits.com/privacy