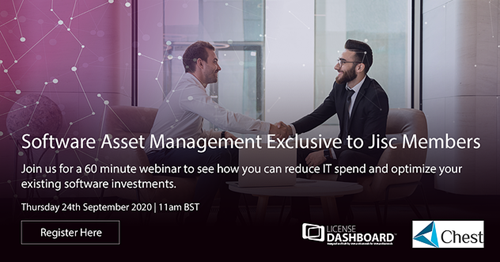 License Dashboard are pleased to announce their new offering, exclusive to institutions available to all Jisc members. The new SAM Agile Agreement brings new offerings to colleges and universities, which lead to reducing IT spend and optimising existing software investments. Through this updated agreement, education institutions gain full access to License Dashboard's flagship platform, License Manager, and ongoing support for three chosen vendors from experienced SAM Consultants.
Join on 24 September 2020 at 11am for a 60-minute webinar where you can understand how this new offering will help you:
Adapt to Change
Respond Quickly to interdepartmental requests
Reduce costs and risks
Engage your Digital Transformation strategy
Further information is available on the Licence Dashboard website.