Learn how to add easy-to-use Synthetic Aperture Radar (SAR) processing to your remote sensing applications with this 2-part training session over 2 consecutive days.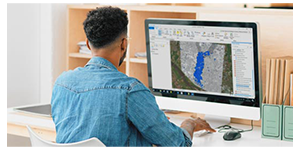 The use of Synthetic Aperture Radar (SAR) data has become increasingly popular around the world due to its many benefits such as the ability to capture data at night and see through cloud cover. Although SAR data can be complex and hard to work with, L3Harris Geospatial in close collaboration with their partner sarmap SA have created easy-to-use tools for some of the most common SAR processing applications to extend the benefits of SAR data to wider audiences.
These tools, called ENVI SARscape Analytics, do not require you to be an expert in SAR to run them! Learn how you can use the most requested analytics to support your Earth Observation applications with meaningful SAR products by attending a 2-part training session over 2 days (choice of mornings or afternoons). You will learn for example: how to detect ships, monitor flooding and forest fires, reveal oil smuggling routes, monitor hydroelectric dam integrity or create DEMs with SAR data.
We encourage you to attend this session even if only one of the built-in automated workflows meets your interest as it will guide you through ENVI SARscape Analytics, addressing different approaches and techniques such as backscatter coefficient analysis, coherence, interferometric and differential interferometric techniques, and multi-temporal analysis.
Institutions signed up to the ENVI Chest Agreement are entitled to a 25% discount on these courses - use the code HARRISEDU when purchasing.
Morning Track
May 6, 10.30 AM – 13.30 PM CEST (9.30 - 12.30 BST)
May 7, 10.30 AM CEST – 13.30 PM CEST (9.30 - 12.30 BST)
Afternoon Track
May 6, 14.30 PM CEST – 17.30 CEST (13.30 - 16.30 BST)
May 7, 14.30 PM CEST – 17.30 CEST (13.30 - 16.30 BST)