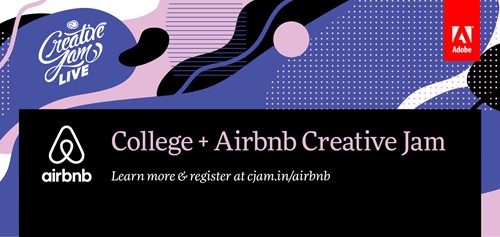 Adobe's online student-focused Creative Jam in collaboration with Airbnb has just gone live. They've started promoting it to student unions and student bodies around the US, UK & Canada and they'd love for your students to take part as well. We're hoping it can be a thoughtful, fun and creative outlet for students to take part in.
Challenge conventional thinking and change the way you design experiences.
Adobe will bring students from across the United States, Canada, and United Kingdom together remotely into a beginner-friendly tournament to identify solutions that matter. Use Adobe XD to design experiences quickly and present them to the Airbnb design team for insightful feedback. Complete the weekend-long challenge with prizes and fun!
Key details:
Run virtually on Crowdcast.
Students need access to Adobe XD (there's a free starter plan available if they don't have access already).
Starts on Friday 24 April, finishes on Monday 27 April.
All students who are currently enrolled at your institution are eligible to form a team and register for the challenge.
There are some great prices including CC Student License + Amazon Gift Cards.
You can find promotional assets here to use on social media and other channels to promote to your students.