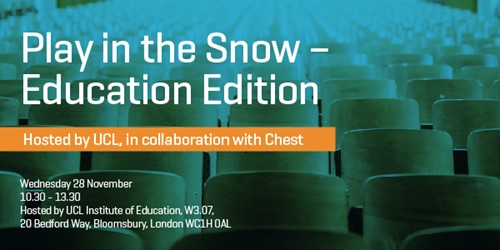 Join us for this special "Education Edition" of 'Play in the Snow' - an informal event where you can see under the hood of Snow's market-leading solutions. Solution specialists are on-hand to show you all the latest developments, plus you will be able to network with other SAM professionals from within the Education sector, book a 1:1 with an expert, or attend a deep-dive clinic.
Hosted by University College London, and in collaboration with Chest
We promise no presentations and no sales pitch
Date: November 28th 2018
Time: 10.30 am - 13.30 pm, includes a buffet lunch
Location: Hosted by UCL Institute of Education, 20 Bedford Way, Level 4, PC Lab 2, Bloomsbury, London WC1H 0AL
New to Software Asset Management?
Hear all the latest industry talking points & learn how to take those first steps into the world of SAM.
SAM veteran?
Book a space in one of our deep-dive clinics, or find out more about Snow's complementary solutions which can help you deliver increased value and effectiveness of your Software Asset Management (SAM) program and/or your cloud strategy.
Places are limited, so book early to avoid disappointment!
See what others are saying about this event:
'it's great to get specific answers from people that have time for you and have the skills'
 'good to learn about other areas of the solution we currently aren't exploiting, like the Snow Automation Platform'.