ENVI 5.5.3 and IDL 8.7.3. are packed with a variety of new features and analysis tools you won't want to miss out on!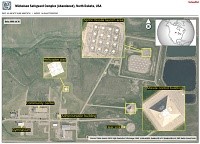 Attend this live webinar to learn about some of these key features and get a sneak peek at what's coming up for ENVI 5.6. Here is a snapshot of the primary features that have been added:
Improved user experience for creating and editing annotations
New magnifier annotation and enhanced text visualization
A simple, new way to create professional PowerPoint presentations
8 New ENVITasks for use in the ENVI Modeler and through the ENVI API in IDL
Expanded file format support for DESIS, Göktürk-1, PRISMA, CSSHPB (shapefile) Data Extension Segment (DES) in NITF files
Quick Mosaic tool to quickly combine separate images together as a single layer
Thematic Change tool which lets you easily find differences between 2 classification images
There will be Q&A at the end of the webinar to answer your questions. If you can't attend the live webinar, register anyway and we'll email you the recording and slides after the webinar.