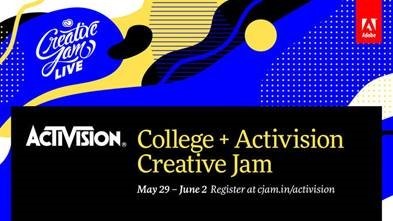 Join Adobe, Activision, and hundreds of college students to compete in a design experience tournament, gain insightful feedback from industry experts, and win prizes and bragging rights!
This Creative Jam LIVE is in partnership with Activision (the company behind Call of Duty amongst many other gaming properties) and they'll be working alongside the Jam team to write a cool, creative and challenging brief that we hope will be super relevant for everyone partaking — gamer or not!
Key details
Run virtually on Crowdcast.
Students needs access to Adobe XD.
All students (18+) who are currently enrolled at an Adobe customer institution in the US, UK & Canada are eligible to form a team and register for the challenge.
There are some great prices incl. CC Student License + Amazon Gift Cards.
Promotional Assets https://www.creativejam.in/openjams/activision